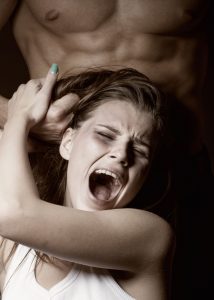 Oklahoma human trafficking is a very serious charge. In April of 2017, police arrested Sarah Garland—a members of Tulsa's most wanted list—for grooming a 15 year old girl for prostitution.  Garland and another woman, Misty Weathers (aka: Misty Hayes), face charges of Oklahoma human trafficking, child pornography, lewd molestation, forcible sodomy and more.  These charges arose from police finding a video of Garland and the other woman performing sexual acts upon the 15 year old girl.  Human Trafficking is an extremely serious charge.  While most trafficking is thought of as sexual exploitation, it can also be forced labor.  Read on to learn more.
Oklahoma Human Trafficking Charges:
Oklahoma Human trafficking takes many forms.  The most common form in Oklahoma is sexual exploitation.  This generally involves a pimp, or owner, repeatedly selling a person who they control.  This control can be either psychological or physical.  Often threats of blackmail, beatings, or killing a victim's family members are tools in keeping this control.
Similarly, Oklahoma has many incidents of labor trafficking also.  This generally is when an immigrant, illegal or not, travels to the state for work.  The person "hiring" these immigrants may take their paperwork or identification papers and refuse to return them.  Because immigrants are often unaware of their legal rights, they continue to work without wages.
Law and Punishments for Oklahoma Human Trafficking:
Under 21 Okl.St.Ann. § 748, human trafficking is a felony crime.  Section (B) specifically states that a person facing charges of human trafficking must knowingly engage in the trafficking or be privy to it happening.  Further, section (C) sets out the legal penalties.  Anyone convicted of human trafficking is subject to:
– Felony charges;
– Minimum 5 years imprisonment; and/or
– fines reaching $100,000 plus possible restitution to the victim.
If the victim is a minor, under the age of 18 penalties increase to a minimum 15 years imprisonment and/or a $250,000 fine.  Further, these crimes are 85% crimes, meaning once receiving a conviction you must serve 85% of your sentence before becoming eligible for any type of parole consideration.
However, if during the commission of these crimes, you were also a victim of trafficking you may have a valid legal defense.
Related Oklahoma Felony Crime Articles 
Call Our Tulsa Criminal Lawyers For Help:
We understand that situations are often much more complex than what they appear on the outside.  We help Oklahoman's charged with both misdemeanor and felony crimes. Don't go it alone, we are about you and we care about your case. The State of Oklahoma will bring their best in an attempt to convict you. Call our criminal defense attorneys in Oklahoma for a free consultation or read our Criminal lawyers blog for additional help.